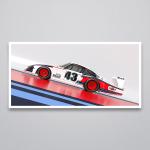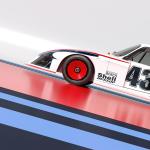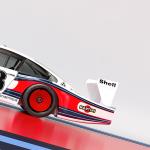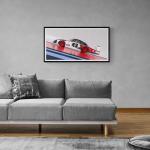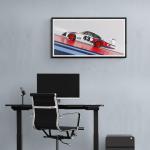 1978 Porsche 935/78 "Moby Dick"
.
This car was nicknamed after the sperm whale "Moby Dick," who features in its namesake novel by Herman Melville. An apt nickname if you ask us, for the car's form and brute power are truly whale-like, and today both the car and the novel are undeniable classics in their own right.
A whale's design
It was not that the design team was aiming to make a whale looking car, but it was the logical conclusion of all the 1970s experiments with car wings. With such a prominent rear wing on the car, the air flowing underneath it would create a powerful downward force that kept the car grounded – even at its incredible top speed for the time. Add the prominent nose, white coloring, and curvy front to back bodywork and you've got yourself an aerodynamic whale on wheels.
The pinnacle of the 935-serie
The Porsche 935 from 1978 was the Stuttgart team's last and most developed version of the brute 935 series. It was the result of Norbert Singer (head of Porsche's motorsport engineering department) taking the Porsche 911 as the starting point to create a Group 5 worthy car.
Singer proved to be well equipped for this task, for he famously got his monster jumping through all the Group 5 regulation loopholes. He cut out the floor pan so the body could be 10 cm lowered, flipped the gearbox, and placed the steering wheel on the right-hand sight to improve its weight distribution and the pilot's view in right-hand corners.
Whale-like power
It wasn't just the 935/78's design that resembled a whale, its power was a serious match for the largest mammal on earth as well. Where the previous air cooled engine had failed Porsche in 1977, it's new water-cooled cylinder heads allowed the twin-turbo V6 boxer engine to be puffed up to 3.2 liters. As a result, the standard became 750hp at 1.5 bar turbo pressure but at 1.7 bar it was capable of reaching up to 850 horsepower!
Moby Dick in action
On the notorious Mulsanne Straight, the 1030kg Moby Dick was able to reach 366 km/h – an impressive top speed for the late '70s! Moreover, it won the 6 hours of Silverstone Circuit as well as the Silverstone Testing, pole, and fastest lap time, which was only 4 seconds slower than the fastest F1 car (piloted by James Hunt) of that year!
While qualifying 3rd 1978 Circuit de la Sarthe, motoric issues caused Rolf Stommelen en Manfred Schurti to finish the Moby Dick only 8th place. Yet, in 1979, the Porsche 935 secured the overall win at the 24 Hours of Le Mans, and it scored six victories at the 12 Hours of Sebring and the 24 Hours of Daytona.
---
What do you think of Moby Dick's whale-like design?
A. Beautiful! The perfect mix between brute force and curvy elegance.
B. Ingenious how such a monster was able to jump the Group 5 regulation loopholes!
C. As mean and nasty as the sperm whale portrayed by Herman Melville's novel.
D. A few steps too far in the 1970s obsession with exaggerated rear wing spoilers…
Can we help? Contact us via the chat or the contact form
Contact us
We use Canon's 5-color reactive pigment-based ink to reproduce all the tones and colors vibrant and natural. Images are printed at ultra high resolution for clarity.
We have selected the ideal 180g/m2 French matte photo paper - which fully meets increased requirements and the desires of our customers.
Depending on your location, the order will be dispatched from Europe (the), USA, UK or Australia
Local delivery time (Netherlands): 2 to 5 business days
Europe: 5 to 10 business days
United Kingdom: 1 to 2 business days
USA & Canada: 1 to 2 business days
Australia: 1 to 2 business days
Customs and import taxes: Buyers are responsible for any and import taxes that may apply. The seller is not responsible for due to customs.
We are happy to accept returns and exchanges on unused goods if you contact us within 14 business days of delivery and dispatch products back within 30 days of delivery.
Return shipping and insurance costs are also the responsibility of the customer. It is advised that all returned goods are insured and sent with tracking information. Until we receive your returned products, their condition is the customers responsibility.
We'll send you an email to confirm that your return has been received and that your refund has been processed. This can take up to 7 business days.
Your refund will be credited back via the original method of payment. Please allow up to 7 business days for your refund to appear on your bank statement. If for any reason we are unable to issue a refund via the original method of payment, we will contact you to arrange an alternative payment method.