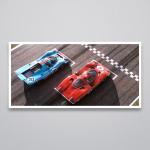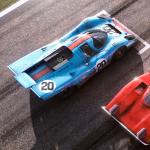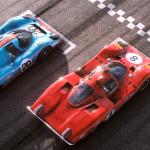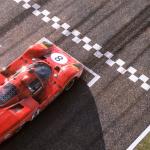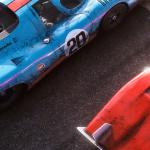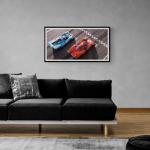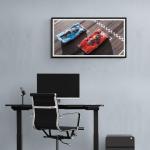 When in 1968 the Commission Sportive Internationale (FIA) changed the Group 4 regulations to allow engines up to 5000cc, a legendary race between Porsche and Ferrari ensued. It was 1970 at the 24 Hours of Le Mans, and Porsche's 917 represented the German side, while the Ferrari 512 raced the track for the Italians.
Today we know this race as the "Battle of the Titans" – a fitting name for the massive displacement in these racecars. While Porsche used a 580 horsepower producing 4.5-liter flat 12 engine to power their 917, Ferrari's V12 made it up to the displacement limit of 5.0-liter but could produce up to 550 horsepower instead. Also, the 917 was 40 kilos lighter, because of the heavy radiators that the 512 needed for water-cooling its engine.
The perennial battle
Before the legendary battle began, Porsche's 917 and Ferrari's 512 had already met on the track before. At the 12 Hours of Sebring, Porsche had beaten Ferrari, but since both parties had to deal with technical trouble during the race Ferrari believed that they could redeem themselves at Le Mans.
When race day began, rain already started to pour from the sky, and as the 24 hours went on it only got worse – especially for Ferrari. While 1 of Ferrari's 512s had to retire early when the engine blew up, 2 other 512s crashed into one another due to the heavy rainfall.
An inspiration across time
This legendary photo was shot at the notorious Mulsanne corner of the 24 Hours of Le Mans racetrack. In the back we see the #20 Porsche 917 driven by Michael Delaney stalking down Erich Stalher's #8 Ferrari 512. Only seconds before they were going at 355 km/h and now they're braking hard to make it through the Mulsanne corner as efficiently as possible, but still in one piece. 
With the track damp from the day's rainfall, another rain that just starts coming from the sky, and lights fading at lightning speed, we can feel the tension of the track down to our bones. Add the tilted picture composition, and you really feel how uneasy it must be to drive either one of those cars and battle the other in such horrible conditions!
Ultimately, Porsche beat Ferrari, which means that it scored its very first overall victory at Le Mans during this legendary battle. The first Ferrari ended up at 4th place – another decisive victory for the Germans to take home. Because this race had caused such a legendary rivalry, it inspired film directors Lee H. Katzin and John Sturges to create the 1971 Steve McQueen film Le Mans.
Can we help? Contact us via the chat or the contact form
Contact us
We use Canon's 5-color reactive pigment-based ink to reproduce all the tones and colors vibrant and natural. Images are printed at ultra high resolution for clarity.
We have selected the ideal 180g/m2 French matte photo paper - which fully meets increased requirements and the desires of our customers.
Depending on your location, the order will be dispatched from Europe (the), USA, UK or Australia
Local delivery time (Netherlands): 2 to 5 business days
Europe: 5 to 10 business days
United Kingdom: 1 to 2 business days
USA & Canada: 1 to 2 business days
Australia: 1 to 2 business days
Customs and import taxes: Buyers are responsible for any and import taxes that may apply. The seller is not responsible for due to customs.
We are happy to accept returns and exchanges on unused goods if you contact us within 14 business days of delivery and dispatch products back within 30 days of delivery.
Return shipping and insurance costs are also the responsibility of the customer. It is advised that all returned goods are insured and sent with tracking information. Until we receive your returned products, their condition is the customers responsibility.
We'll send you an email to confirm that your return has been received and that your refund has been processed. This can take up to 7 business days.
Your refund will be credited back via the original method of payment. Please allow up to 7 business days for your refund to appear on your bank statement. If for any reason we are unable to issue a refund via the original method of payment, we will contact you to arrange an alternative payment method.