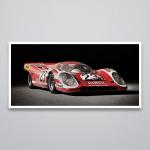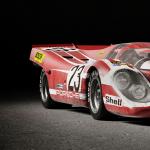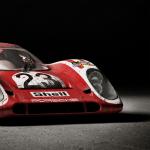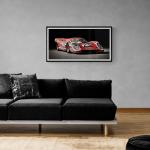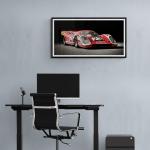 While Porsche's 917 was off to a rough start, it ultimately became their most notorious racecar. This rough start is actually an understatement, for the 917's first pilots actually declared the car nothing short of "undriveable." So how could this be, that a car that could hardly be handled became Porsche's frontrunner for 7 years in a row?
Too hasty
The reason why the 917 was developed in the first place was a regulation change by the FIA: the World Sportscar Championship now allowed engines up to 5.0-liter. As a result, Porsche's 3.0-liter 908 from 1968 had now lost its ability to be a serious competitor. But here's the real kicker, because this 1968 rule change came completely unexpected. This meant that there was very little time to develop the new car, let alone properly test it before the 1969-racing season would start.
Naturally, renowned Ferdinand Piëch was quite frustrated by this sudden alteration in regulations. But, at 31 years young he wasn't going to be a Head of Development without a prize-winning competitor for Porsche. Thus, he gave the signal to develop the 917, and to do it quick – at whatever cost. What Piëch realized correctly, as soon as the 917 would be a prize-winning racecar, its expensive development would be vindicated instantaneously.
From struggle to success
Still, there was too little time. Everything from prototyping to presenting the 917 at the 1969 Geneva Motor Show happened in only 9 months. So, while an air-cooled V12 powered the incredibly aerodynamic 917, its design lacked the appropriate amount of downforce to give the car driving stability. Consequently, all the initial pilots had a hard time getting the car under control.
With an extremely difficult handling car in their hands, none of the 917's initial pilots managed to win a race. But, come August 10, 1968 the tide for Porsche started to turn: After 1000 kilometers of racing on the Österreichring, Kurt Ahrens and Jo Siffert came in first! Proof was now there – Piëch's 917 had redeemed itself as a prizewinning racecar.
From 917 to Porsche 917 KH Coupé
Once the racing season was over, Porsche took the 917 back into the garage to rework the body. After a complete makeover, the only original parts remaining were the roof, windscreen, and doors. The result of redesigning the sills, nose, wings, and rear? The 917 KH Coupé, a racecar with vastly improved handling (much desired), especially at higher driving speeds!
With 620 horsepower under the hood, the 917 could now finally live up to its full potential. With The 917 having what it takes to be a winner, both he John Wyers Gulf team and the Porsche Salzburg team readied the 917 for the World Sportscar Championship. With 7/8 races of the season won, completely transforming the body proved to be a good decision.
Winning, winning, and more winning
Various versions of the 917 continued the winning streak. At 24 Hours of Le Mans, Richard Attwoord and Hans Herrmann came in first in their red-white Porsche Salzburg 917 short tail. And with Willi Kauhsen and Gerard Larousse taking 2nd place in their 917 long tail, Porsche scored the overall victory at this infamous endurance race. 
But, there was more! The next season in 1971, Porsche's 917 again won 7/8 races and was again victorious at the 24 Hours of Le Mans. Moreover, with 5.335,16 km driven in 24 hours Gijs van Lennep and Helmut Marko set a new Le Mans record that stood for nearly 4 decades!
While the Porsche 917 was not allowed to participate at the World Sportscar Championship of 1971 (because of another change of regulations), it still scored victories at Europe's Interserie and North America's Can-Am series. With a final score of 37 victories in 1975, the 917 was indeed Porsche's most feared racing car to ever enter the track.
Can we help? Contact us via the chat or the contact form
Contact us
We use Canon's 5-color reactive pigment-based ink to reproduce all the tones and colors vibrant and natural. Images are printed at ultra high resolution for clarity.
We have selected the ideal 180g/m2 French matte photo paper - which fully meets increased requirements and the desires of our customers.
Depending on your location, the order will be dispatched from Europe (the), USA, UK or Australia
Local delivery time (Netherlands): 2 to 5 business days
Europe: 5 to 10 business days
United Kingdom: 1 to 2 business days
USA & Canada: 1 to 2 business days
Australia: 1 to 2 business days
Customs and import taxes: Buyers are responsible for any and import taxes that may apply. The seller is not responsible for due to customs.
We are happy to accept returns and exchanges on unused goods if you contact us within 14 business days of delivery and dispatch products back within 30 days of delivery.
Return shipping and insurance costs are also the responsibility of the customer. It is advised that all returned goods are insured and sent with tracking information. Until we receive your returned products, their condition is the customers responsibility.
We'll send you an email to confirm that your return has been received and that your refund has been processed. This can take up to 7 business days.
Your refund will be credited back via the original method of payment. Please allow up to 7 business days for your refund to appear on your bank statement. If for any reason we are unable to issue a refund via the original method of payment, we will contact you to arrange an alternative payment method.