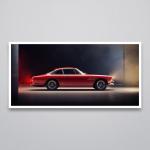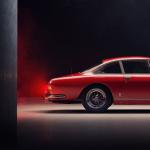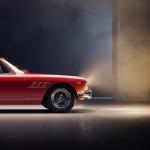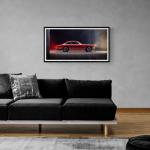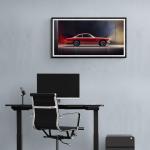 Ferrari 330 GT 2+2 – 1963
.
Instead of presenting motoring media and fans from around the world with a new F1 car, Enzo surprised his 1964 yearly press conference guests with a Pininfarina designed powerhouse – the Ferrari 330 GT 2+2.
With the 330 America as precursor, the GT 2+2 had the power that a V12 engine commands, but came with upgraded aerodynamics, a shoehorned exterior design, and Italy's finest interior design.
330 GT 2+2 Design
Contrary to the 250 GTO – its predecessor from 1962 – the 330 GT 2+2 was actually a comfortable car to drive for regular roadwork. As a 4-seat car with leather interior furnishings and electric powered windows, the car combined classically styled luxury with modern technology in a race monster that you could unleash as soon as traffic would clear out.
The 330 GT 2+2's exterior was shoehorned around the nose and tail, but still featured a wide grill and quad headlights. Interestingly, while the wheelbase was lengthened by 5 cm, through the adaptable shock absorbers by Koni it facilitated a smooth handling that pilots of the Ferrari 330 America could only dream of.
The powertrain
So, what did the 330 GT 2+2 feature under the hood? A close to 300hp producing V12 engine with a displacement of 4.0 liters. This single-overhead-camshaft was expanded and developed from Gioacchino Colombo's designed V12 – an engine that originally had only 1.5-liter capacity. Still, back in the days, this was the engine that shuddered the competition and ultimately gave Scuderia Ferrari its notoriety in the racing game.
Iterate to perfection
In 1965, Ferrari made a second iteration of the 330 GT 2+2, the Series II, which was a nice upgrade from the original Series I. In the series II, the gearbox was upgraded from a 4-speed to a 5-speed, and it offered options for power steering and A/C. Regarding the design, the Series II featured alloy wheels and went back to twin-lights in front – a highly popular arrangement for collectors and enthusiasts today.
Unique customization for Dutch Royalty
In 1965, Enzo Ferrari also made one special customized version of the 330 GT 2+2 for his good friend Prince Bernhard – the infamous prince from the Dutch royal family. This version was styled with a Ferrari 500 Superfast body, which was accentuated with unique rear lights and side window frames. The exterior was painted in Bernhard's favorite royal green color – metallic Verde Pinto – and the interior was richly draped in beige leather.
In December 2003, Bernhard's custom car was auctioned at Bonhams' Geneva for 422.100 Swiss Francs, which was about 275 thousand euros during that time. While the 330 GT 2+2 was Ferrari's first production car to surpass 1.000 examples, 455 of them were of the Series II iteration and only a scant 37 examples were designed in the much appreciated Superfast style, including Bernhard's personal custom version.
Can we help? Contact us via the chat or the contact form
Contact us
We use Canon's 5-color reactive pigment-based ink to reproduce all the tones and colors vibrant and natural. Images are printed at ultra high resolution for clarity.
We have selected the ideal 180g/m2 French matte photo paper - which fully meets increased requirements and the desires of our customers.
Depending on your location, the order will be dispatched from Europe (the), USA, UK or Australia
Local delivery time (Netherlands): 2 to 5 business days
Europe: 5 to 10 business days
United Kingdom: 1 to 2 business days
USA & Canada: 1 to 2 business days
Australia: 1 to 2 business days
Customs and import taxes: Buyers are responsible for any and import taxes that may apply. The seller is not responsible for due to customs.
We are happy to accept returns and exchanges on unused goods if you contact us within 14 business days of delivery and dispatch products back within 30 days of delivery.
Return shipping and insurance costs are also the responsibility of the customer. It is advised that all returned goods are insured and sent with tracking information. Until we receive your returned products, their condition is the customers responsibility.
We'll send you an email to confirm that your return has been received and that your refund has been processed. This can take up to 7 business days.
Your refund will be credited back via the original method of payment. Please allow up to 7 business days for your refund to appear on your bank statement. If for any reason we are unable to issue a refund via the original method of payment, we will contact you to arrange an alternative payment method.