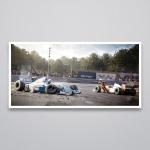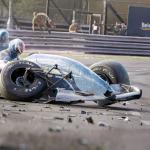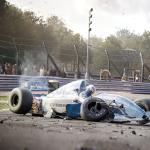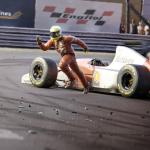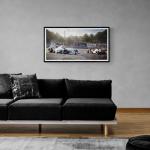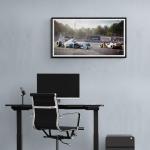 It was a Friday summer day in 1992, the 28th of August, when racecar driver Ayrton Senna da Silva was practicing on the Belgian Circuit de Spa-Francorchamps in his McLaren. The famous Brazilian driver was making test laps so he could feel the track. This way, he could find out which setup would work best for his qualification race of this great Belgium prize.
All was going well, until he almost reached the finish of his test drive. There Ayrton Senna almost crashed into a horrible accident that had happened on the circuit. There was his colleague driver Erik Comas, stuck in his crashed Ligier while the engine was still running. The French racecar driver Comas laid there passed out in the middle of a huge smoke cloud, while oil continued to leak from his car.
No hesitation
Even though Ayrton Senna was driving at a high speed when he saw the crashed Ligier, he managed to steer just out of the way and get out of the car in no time. Although there was a dangerous risk of the Ligier exploding, Ayrton Senna didn't hesitate for a second to help Comas. After turning the engine off, he dragged the unconscious Comas out of his car and saved his life.
When Erik Commas recalled the story, he commemorated Ayrton Senna with saying that "he was not only an extraordinary driver but also an extraordinary man. He saved my life in 1992 in Spa-Francorchamps when my car had hit the barriers. I had lost consciousness, but luckily, Ayrton noticed it immediately and pulled over to try to cut the electrical circuits of my car. At that point, there was a huge risk of my car exploding, because a lot of oil had already leaked from my car and it continued to do so. It is true that at that day he showed an unbelievable courage because there were still other cars on the way. Although the red flags slowed these cars down, the drivers didn't know that we were crashed in the middle of the road. For me it was a truly heroic act, but Ayrton Senna simply regarded it a civic and normal act."
Can we help? Contact us via the chat or the contact form
Contact us
We use Canon's 5-color reactive pigment-based ink to reproduce all the tones and colors vibrant and natural. Images are printed at ultra high resolution for clarity.
We have selected the ideal 180g/m2 French matte photo paper - which fully meets increased requirements and the desires of our customers.
Depending on your location, the order will be dispatched from Europe (the), USA, UK or Australia
Local delivery time (Netherlands): 2 to 5 business days
Europe: 5 to 10 business days
United Kingdom: 1 to 2 business days
USA & Canada: 1 to 2 business days
Australia: 1 to 2 business days
Customs and import taxes: Buyers are responsible for any and import taxes that may apply. The seller is not responsible for due to customs.
We are happy to accept returns and exchanges on unused goods if you contact us within 14 business days of delivery and dispatch products back within 30 days of delivery.
Return shipping and insurance costs are also the responsibility of the customer. It is advised that all returned goods are insured and sent with tracking information. Until we receive your returned products, their condition is the customers responsibility.
We'll send you an email to confirm that your return has been received and that your refund has been processed. This can take up to 7 business days.
Your refund will be credited back via the original method of payment. Please allow up to 7 business days for your refund to appear on your bank statement. If for any reason we are unable to issue a refund via the original method of payment, we will contact you to arrange an alternative payment method.