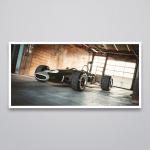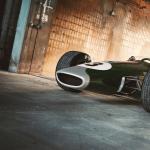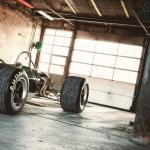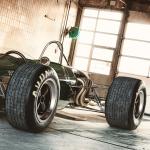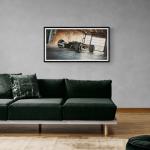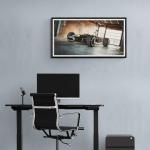 At the start of the '60s, two renowned figures from the motorsport world came together: Jack Brabham and Ron Tauranac. At the time, Jack was a racecar driver with 2 World Championship victories under his belt, and Ron a master of engineering and racecar designing. Together they founded Motor Racing Developments (MRD), or "Brabham," a UK based manufacturer of racecars that later founded its own racing team, Brabham Racing Organisation (BRO).
Bootstrapping production
When the 2 business partners started their first production car, they didn't have any external financing or road car programs to support them. Thus, bootstrapping the company was the only option. with a very close eye kept on their production expenses at all times, their diligence paid off and they completed their first car in 1961! While the company name was in Brabham's name, they named their first car "BT1" after both Brabham's and Tauranac's initials.
One year later, in 1962, Brabham developed the BT2 Formula Junior racecar. The consumers were happy with Brabham's new model, so they ramped up their production and managed to get 11 customer car examples rolling out of their factory. Later that year, Brabham also managed to get 1 single example of the BT3 rolling out, and use it to race at the German Grand Prix of 1962. Although the BT3 had to retire early during the first race, it came in 4th place at the next Grand Prix that it raced at. Now 4th place may not sound too impressive, but it was a huge achievement for a bootstrapped company and its fledging racing team.
From BT design to BT victory
Once Ron Tauranac had penned the BT2 and BT3 designs on paper and develop them accordingly, the Brabham marque didn't change its subsequent designs much anymore. This was because the spaceframe chassis proved to be simple but effective – the perfect combination for a bootstrapped company. And although the BT cars couldn't match the power of Ferraris or the advancements of Lotus's 25s, Brabham managed to score its first victories with this design after all. 
In 1963, Ron scored Brabham's first victory at the 1963 Solitude Grand Prix. Then, in 1964, Dan Gurney came out victorious twice in his BT7 powered by a Coventry Climax engine, both at the French Grand Prix and at the Mexican Grand Prix. That same year, Brabham cars driven by its consumers went on to win 3 more non-championships throughout the 1964 racing season. With its first victory in Formula 1 racing in the pocket, Brabham had now proven itself, both as a racecar manufacturer – by that time producing and selling scores of racecars every year – and as a prizewinning racing team.
Bigger engines – new opportunities
In 1965, the 1.5-liter class that Brabham competed in was reaching its end. The new regulations allowed engine sizes up to 3.0-liter, and with this new ruleset, the various racecar producers all had to start from scratch. This created a fairer opportunity for Brabham manufacturing and its Anglo-Australian racing team BRO, for most of their competitors had been around for decades already.
However, Brabham had built its network around using engines with high revs and mounting them in extremely lightweight racecars only. Accordingly, Brabham's engine and chassis partners had a lot of trouble making products that would be fitting for the new 3.0-liter ruleset. While marques like Ferrari and Maserati were the most experienced and hence most promising engine suppliers in the new field, Brabham decided to stick with its original partner, Coventry Climax.
The British engine maker tried to retain as much as possible from the original 1.5-liter engine, and as a result designed an unnecessarily complex flat-16 engine. Simultaneously, Brabham was working on the BT19 to mount the new 16-valve engine in. However, during Brabham's development in 1965 it turned out that Coventry Climax's engine was going to take far too long to be delivered upon. Luckily, Brabham still had its connections down under, and ultimately mounted their racecar with Repco engines.
Although Repco was an unassuming brand within Formula 1 racing, Brabham mounted the Repco engines in light yet reliable racecars that managed to take the lead straight from the racing season get-go. Not only that, but Jack Brabham even won the Formula One championship at the French Reims-Guex Grand Prix in 1966, and went on to win 4 more titles. As such, Brabham was the first driver racing in a car with his own name on it and winning an F1 championship in doing so!
Can we help? Contact us via the chat or the contact form
Contact us
We use Canon's 5-color reactive pigment-based ink to reproduce all the tones and colors vibrant and natural. Images are printed at ultra high resolution for clarity.
We have selected the ideal 180g/m2 French matte photo paper - which fully meets increased requirements and the desires of our customers.
Depending on your location, the order will be dispatched from Europe (the), USA, UK or Australia
Local delivery time (Netherlands): 2 to 5 business days
Europe: 5 to 10 business days
United Kingdom: 1 to 2 business days
USA & Canada: 1 to 2 business days
Australia: 1 to 2 business days
Customs and import taxes: Buyers are responsible for any and import taxes that may apply. The seller is not responsible for due to customs.
We are happy to accept returns and exchanges on unused goods if you contact us within 14 business days of delivery and dispatch products back within 30 days of delivery.
Return shipping and insurance costs are also the responsibility of the customer. It is advised that all returned goods are insured and sent with tracking information. Until we receive your returned products, their condition is the customers responsibility.
We'll send you an email to confirm that your return has been received and that your refund has been processed. This can take up to 7 business days.
Your refund will be credited back via the original method of payment. Please allow up to 7 business days for your refund to appear on your bank statement. If for any reason we are unable to issue a refund via the original method of payment, we will contact you to arrange an alternative payment method.